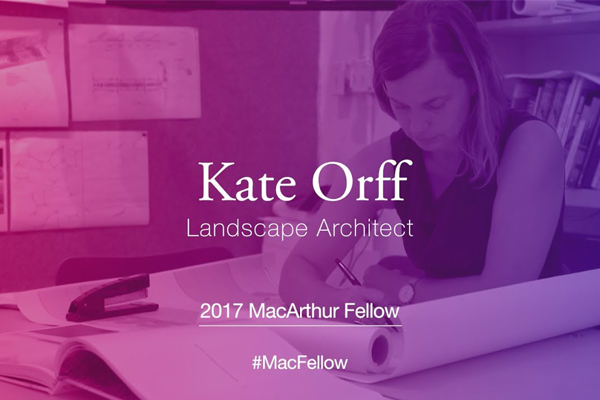 MacArthur Fellow | Kate Orff, Founding Principal
"Creativity, potential, and a promise for future accomplishments" are the criteria for the prestigious MacArthur Fellowship, also known as a "genius grant." The Fellows are meant to touch on social challenges and bring exceptional innovation and experimentation to inspire diverse people and places.
Kate Orff joined the MacArthur Fellowship Program's Class of 2017, becoming the first landscape architect in the Foundation's 36-year history to be honored with the award. She brings fresh ideas towards new forms of public space, reviving hidden ecological systems and encouraging urban residents to become active stewards in their environment.
National Design Award
In 2019, SCAPE was honored with a National Design Award in landscape architecture by the Cooper Hewitt, Smithsonian Design Museum. Launched by the White House in 2000, the award recognizes excellence and innovation across design fields, and celebrates design as a vital humanistic tool in improving quality of life.
During National Design Week in Fall 2019, SCAPE designers participated in a number of programs at the Smithsonian Design Museum centered around the interactive design of public spaces in New York. On October 17, the SCAPE Principals attended a gala and awards ceremony.
Selected Awards
2023
2022
2021
2020
2019
2018
2017
2016
2015
2014
2013
2012
2008
2007
2006